Search the Library Catalog
Search Electronic Journals
Announcements and News
Research Workshop Schedule for Spring 2013
The law library offers 45 minute workshops on researching a specific area of law. The Spring 2013 schedule is posted.
Topics include:
Final Exam Study Resources
The law library has the following resources available for finals:
Exam Bank: Online versions of old exams. You can sort by professor or by class name.
Paper copies of old multiple choice exams for Torts taught by either Johnson or Liu. Come to the Circulation Desk on the first floor of the law library to borrow these.
NO STUDY ROOMS: Most study rooms are reserved for administering exams. After hours and on the weekend, rooms are available as usual on a first come, first served basis.
CALI lessons: The online database CALI offers quizzes and lessons for a variety of subjects. Lesson quality varies. It is worth a quick check to see if extra study material is available. Click here for intructions on registering for CALI.
Thanksgiving 2013 Hours
November 25, 2013
Mon. and Tues.: Regular hours
Wed. the 27th: 7am to 3pm
Thurs. the 28th: closed
Fri. - Sun.: Regular hours
Thursday Only! Women's Law Society Silent Auction
November 21, 2013
The Women's Law Society is having a silent auction all day Thursday, Nov. 21, in the Alumni Room on the first floor of the law library.
Raffle tickets! You could win a Kindle Fire.
Silent auction!

Gift certificates to restaurants
Dates with eligible bachelors
Bar review materials
Car washes, pedicures, dance lessons, and more!
Proceeds benefit Seton Home, which provides education and support services to teen mothers and their children.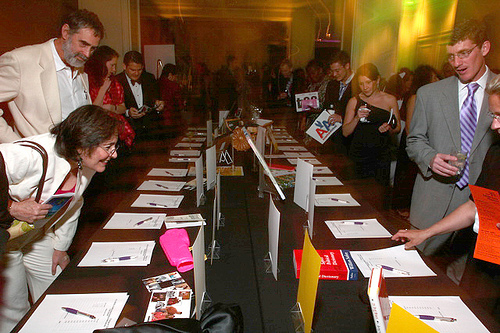 Color Printing Now Available for Students
November 11, 2013
EZprint now offers color printing through student accounts. To use the color printing option, choose the printer called "COLOR - Law Library Under Stairs" when you select a printer while following the EZprint instructions. Color printing will be charged at 40 cents per page. In a long document with some color pages and some black and white pages, EZprint will detect which pages are color and charge 40 cents for those, and detect which pages are black and white and charge 5 cents for those.
Attention Jessup Hopefuls
November 4, 2013
Jessup Moot Court tryouts were last week. Jessup hopefuls, you can find Jessup problems from previous years and the winning memorials in HeinOnline's Philip C. Jessup Library!
Symplicity accounts available for 1Ls
October 23, 2013
On October 15, 2013, 1Ls were sent an email from the Office of Career Services with log in information for Symplicity (St. Mary's Job Bank and Online Recruiting System). Symplicity is an online tool for applying for job and internship opportunities for law students and alumni, and getting up to date information about career services events and networking events. First- year students can use the information in that email to log in to the Symplicity login page at: https://law-stmarytx-csm.symplicity.com/students/. If you have any problems logging in, contact the Office of Career Services at 210-436-3511 or email Alicia Mendoza at Amendoza1@stmarytx.edu for assistance. Alumni get accounts too, and can register using the form at: https://www.stmarytx.edu/academics/law/careerservices/symplicity/symplicity-request/
Westlaw and Lexis Printers
August 12, 2013
Westlaw will no longer provide free-of-charge printing at St. Mary's. At the end of June 2013, printers were removed.
Lexis will continue to provide printing throughout the 2013-14 academic year. You can check the Printing and Copying page for instructions on printing from Lexis.
Yes we are Open!
May 20, 2013
This summer, there is an ongoing construction project on the Law Classroom Building, which is right next door to the law library. Despite the dust, closed parking lots, and fence around one side of the building, the Law Library is open and ready for business. Check our Hours, Directions, and Parking page for current information about parking, and coming to the library.
Waiting for Bar Results? You still get free-of-charge Texas CLE videos, audios, and handouts
March 1, 2013
Click here for a handout on how you can get to the State Bar of Texas's CLE courses, as a law student or recent grad awaiting bar results.

Currently enrolled law students at accredited Texas law schools, including St. Mary's, get free-of-charge CLEs from the State Bar of Texas. CLEs, or Continueing Legal Education courses, are short courses of less than one day. These course are designed for practicing lawyers to either introduce the lawyer to a new area of law, or to go deeper into an area in which the lawyer already practices.